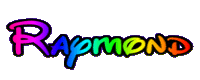 RAYMOND 4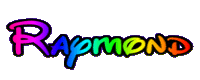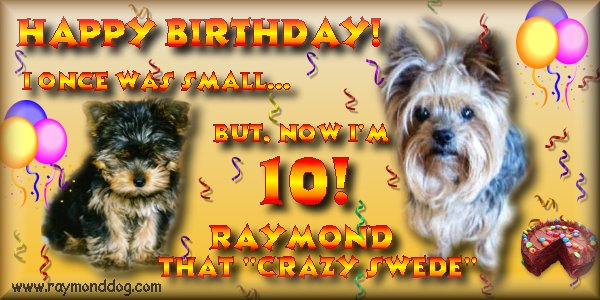 All you need to know about me little Raymond and more !!!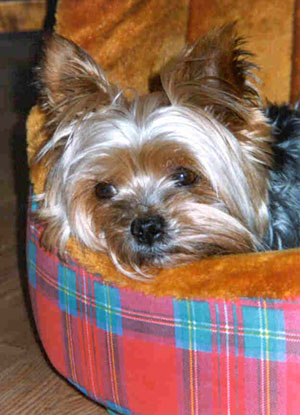 I´m all yours......!

RAYMOND FACTS !!!
Here you can find out about Raymond´s special tricks, biography, health, friends and family, favourite toys, likes and dislikes and much more.

THIS SITE ALSO INCLUDES:
Picture Mix, Goodies in Life, Raymond and Bodri´s Page, A Little Fashion Show and Strange Stuff. Just click on the next button down below !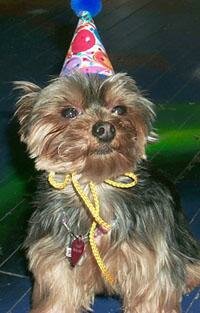 A little Pawty-Yorkie,that I found on the net !
I hope that you´re having a good time right now !

RAYMOND FACTS !!!

Full name: Minelli´s Raymond

Father: Henrikville Secret Topic

Mother: Minelli´s Bella Rosina

Sister: Minelli´s Ronja

Family: My mom Ulrica, my dad Jörgen and A LOT of girlfriends !

My health: My fysical condition is VERY good. I´m an athletic dude in general ! I exercise a lot and all the time. Everybody thinks that I´m still a little puppy. I sure do behave like one ! My weight is arround 3.2-3.4 kilos (pure muscles of course) ......hehehe....! Sometimes I weigh a little bit more....sometimes a little bit less, depending on how many tasty treats that I´ve eaten lately !?!

My best friends: Everybody who treats me kindly and with respect.

Workplace: The University of Umeå, School of Economics !

Title: Economic scientist ! I´ve got a PhD now and I work as an assistent for my dad !

Boss: Me of course ! At work-my dad, At home-my mom !

Wealth: Over 200 bones, over 180 toys, five own houses, a tent,a Snoopy house, a big Moose "with head and all" carpet, four blankets, a Disney car -blanket, a "real" bluefox-tail (used as a pillow in one of my houses), as much food and treats that I disire, a travellingbag/house, a country house, some dogfurniture, a treasure chest, a real house with a yard to play on, a lot of clothes, a lot of things for my fur, scarves, a lot of collars and most important of all......as much TLC that I could ever need......!

Hobbies: Play with toys, play with people, play by myself, play with friends, exercise, taking a long or a short walk, swim, agility, play hide and seek, chasing things, catching things, chewing things, play peek-a-boo, take a trip with the car, take a trip by airplane, sleep at hotels, go to the forest, visit friends, take a walk in the city, visit shops, listen to music, watch tv, chasing cats, dig outside, girls, to get a good sun tan, play with a stick or a ball.......!

Favourite treats: Twisted bones, smackos, munchy, barbeque sticks, markies, frolic, peanutbones, sausage sticks, vanilla bones, ham, softies, reward sticks, crackers, Gunilla´s livercake & beer-bones...........!

Music I like: Heavymetal, Classical music, Metallica, Foo Fighters, Manic Street Preachers, REM, Ozzy Osbourne, Eminem, Sheryl Crow, Depeche Mode, Willie Nelson, Nirvana, Roy Orbison, Johnny Cash, Abba, Iron Maiden, Bee Gees, Bosson, Mariah Carey and many, many more..........! I just discovered the radio channel "Lugna favoriter" ("Calm Favourites" in english) and I looooove that one !!! Coasy, coasy indeed !!!

Music I don´t like: Whitney Houston....eeeeewwww..!!! Opera singers like Pavarotti.........ooooouch.... it HURTS in my EARS !!!

Hairstyle: My current hairstyle is short (puppy cut) ! I had a show-coat, in my younger days !

Idols: Eric Cartman, Ozzy Osbourne, Howard Stern & Britt Öhgren.....she is the BEST !!! She is my vet.,claw-trimmer, groomer, dentist, pshycologist & such a good friend......all in one package......!!!

Likes: Everything that makes me happy ! Kindness for example.

Dislikes: Everything that makes me sad ! Unjustice for example.

Abilities: You name it !?! I´ll do it! No limits !!!!

Favourite food: Kebab, mozzarella cheese, all sorts of meat, chicken, burgers, sausages, pasta, green olives, cheese, rasberrys, vanilla icecream, christmas ham, rostbeef, boild ham, white bread, toast, green peas, caviar, signum veal, lamb & rice, potato gratin, chinese food, taco´s, milkshake, Yorkshire 28.......yummi, yummi..............!

Favourite bones: Twisted bones !

Food I hate: Messy food, too spicy food, too much garlic, onion, fish, lemon, seafood.......!

Special tricks: Playing dead (Rigor Mortis) , all agility tricks, sit, lay, lay on the side, beautiful "tass", spin, bark on command, wave, sit beautiful, how do you do?, roll around, doing all the tricks on somebodys back, jump up and down on command, slalom, fetch, fetch all my 100 toys by name, scratch carefully on somebodys cheek, sit in a school bench trick, knocking on somebodys eyeglasses, ballet dancing, slow dancing, disco dancing................!

Favourite toys: All my (more than) 200 toys..but............My squeeky hamsters and rats, Pokemon, Miwako (a japanese Minnie) , my yellow ball, mr Fox, Babar, lill-hanteln, Tiger, Pluto, The Handgranate, my singing pig, Green frog, my chicken toy, Rabalder, my tennis ball............are some od my favourites !

Favourite spots inside: My very own houses, the couches, the bed, the chairs, all the carpets, my elk, the floors, mum´s fleeece blankets, the sunbeds outside and...........!

Favourite spots outside: Wherever the sun is....!

Favourite animals: Dogs, cats who can behave, frogs, cows, horses, foxs, deer, chickens, roosters, lambs, bunnies..........!

Animals I don´t like: Hedgehogs, cats who can´t behave, scary bulldogs, wasps, snakes, flies, moskitos, spiders, ants...........!

Things I´m afraid of: Fireworks, loud noises, children who can´t behave, The Icecream Car, hedgehogs, bulldogs..............!

Things I should be afraid of: Cars, big animals, getting a heart attack when I get over-excited........!

Things I love: The sun, taking a swim, lay in the sun, doing my tricks, getting visitors, getting brushed, being spoiled in general......!

Things I hate: Taking a shower, being dirty, getting a haircut, being told to do stuff when I don´t feel like it !

Favourite friends: Ludvig, Mia, Bodri, My, Olivia, Tina, Jessica, Freja, Primus, Alva, Phoebe, Tintin & Lotta, Dennis, Rasmus, Bamse, Selma and MANY more.........!

Favourite girlfriends: Petit Fleur & Mia ! Petit Fleur is at The Rainbow Bridge now, but she will ALWAYS be my NR:1 Girlfriend !!!

Things I love to chase: Cats (especially Sivert & Nisse the cool neighbour cats, who look like Garfield in size), frogs, horses, cows, cars, bikes, mopeds, people who are rollerskiing, people who are running or walking too fast (like John-Eric Byström).............!

Trauma in my life: I´ve been hit by a car, I´ve past out, I´ve been attacked by a German shepard and a Soft coaten wheaten terrier, I´ve almost been choked to death by a bone in my throath, I´ve fallen down stairs many times, I´ve had a chewinggum incident, I´ve been "outburned", I´ve almost been hit by a car many times, I´ve had a seriouse allergy "chock" reaction with rashes all over my little body and more.......What can I say !?! I like to live dangerous !!! I´m no sizzy ! NO way !!!

Favourite people: Old people, girls & ladies, happy people and dog-friendly people !

Favourite things: My toys, the car, the couch in the livvingroom, my travellingbag, my fleece blanket & SURPRISES...whoo hooo.....!

Raymond`s secrets: In my little red house, I´ve got over 177 bones hidden.....!, We have a fox outside, who I give my doggie bisquits to......!, I´ve a special friend outside called "Mr Frog", who lives in our backyard. I like to lick frogs......hehehe....trying to get stoned perhaps....hehehe !!!

What makes me happy: Being pampered A LOT and often !

What makes me mad: People who don´t listen to what I´m saying, when I´m being ignored, people who can´t behave, being teased too much, when I want to play and nobody else wants to, loud things and pepole who are drunk. Being laughed at because I´m small........!

Favourite cars: Mercedes Benz of course ! A Ferrari is OK, too !!!

Favourite colour: Red !!! It´s the official Yorkie colour ! But PINK is the coolest colour indeed !!! Especially on dudes !

Youth sins: Did you expect me to say anything here? Think again !!!

Things I would love to do: Invite some sweet girls to my next birthday party !

Places where I would love to go to: To Barnen´s Hus ( A Swedish Toy´s R´us). It would be like paradise to me !!! Whoooppiii !

Things that drives me insane: When I don´t get what I want, when people don´t understand me, when I get no attention, getting my claws done........!

Things I do that drives people insane: Being VERY stubbern and that I NEVER give up & surrender ! Bark when I shouldn´t bark............!

Things I do everyday: Eat morning and evening ham, take walks, take naps, play by myself, play with mom & dad, eat my lunch and dinner, take a trip with the car, being naughty in someway, being a sweetheart, doing my tricks, doing my dirty deeds.........!

My nicknames: Rajje, Arne, Boris, Charlie, Pippi-Lotta, Lilla grisen, Tigern, Rudolfo, Raymondo, Svante, Sixten, Hjalmar, Roy Orbison, Raymondo Belmondo, Jean-Paul, Limpan, Volvo, Gullvivan, Vivagull, Saab turbo, Jean-Paul, Maj-Britt, Pralin-nos, Elsa Bylund, Lill-Elsa, Älskling, Snuttlimpan, Maj-Bjitt, Fiat Ritmo, White boy, Ulla-Britt, Bajje, Lill-Nyqvist, Lill-Hellström, Lill-Bibbi, Duvan Tjernomyrdin, Majjan, Dwarfy, Lill-skiten, Akademikern, Black-lips, Lill-Arslet, Foxy, Foxy dude, Hasselnöts-ögat, Lill-Ulla, Heidi, Non stop-ögat, Ulla-bits, Small pants, Peggy, Peggy-Sue, Kastanje-ögat, Sonen, Rådjurs-ögat, Stjärtis, Lill-dollarn, Beavis, Vajvold, Lill-pluppen, Mauno Koivisto, Hesa-Fredrik, Ligisten, Lill-ligisten, Baymond, Raymonddog dot com, Sune, Brolle-Junior, Sixten Herrgård, Birgit, Biggits, Alf Robertsson, Liam Gallagher, Kajsa Kavat, Bennett, Snittgurkan, Snittis, Aschmit,Bajjan....and so many more crazy ones !!!
What can I say here !?! My mom and dad ARE completely insane !!!

Words that makes me go and eat: You have to say...where is.....coccos bollos, smurfbollen, gula bollen, Dragan, blå draken, mr Fox, tennis bollen, Babar, kyckling klubban, Miwako, Tigern, Pluto, Piraten, Max apan, ormen or grillspettet for example..........and you have to say it with PASSION, or I won´t eat ANYTHING at all ! The words change from day to day, so you have to try until it fits and sometimes you have to make up new words also ! You never know what kind of word it´s going to be that day,until you have tried it !

Raymond kinky stuff: I fart a lot, I snore, I burp loud and proudly, I´ve got a age-woarth, I´ve scored only once...heheheee.....!

Raymond celebrity stuff: I´ve kissed " The most sexiest girl/woman in Sweden year "2002" Pernilla Wahlgren on the mouth. She called me a sweetie-pie too.....Woooohooo !!! Apperently she doesn´t fancy dogs at all normally, but then she met ME....little yorkie Raymond ! Pernilla Wahlgren is one of swedens most famous actresses,singers and musical artists.

Other famous people Raymond have met is: Micki from Rederiet. Leif Boork (the former Headcoach of Sweden) used to bark at me, when we were neighbours. I´ve met a lot of famous hockey profiles ( you know that I live in Peter Forsberg land) !?! Actually we live just 1.5 km from his very own golfcourse. Our house is situated in the middle of "The High Coast world heritage area". Not bad at all !!!

Special Raymond things to do: When I´ve forgotten to eat, my mom or my dad gives me "water on a spoon". I´m begging for this myself, when I´m not feeling so well. At first I´m shivvering like a mad-dog, but after a while I´m starting to feel better and wants to eat again.

I never start to eat before sombody says "you are welcome" !

I need a special word or I won´t eat !

If I have a scarf on, you will have to take it off before I´ll eat. God forbidden if I´ll get dirty !

If I´ve met sombody once, I´ll never forget that person and I will recognize that person anytime and anywhere.

If I´ve been somewhere once, I will always recognize that place or neighbourhood! You should hear me in the car......!

I understand the word "gentle" in all kinds of situations.

I´m very sensetive to how people are feeling. I´m very protective of my mom when she isn´t feeling well. I even walk her to the toilet.....!

I always listen to mom and dad when they are taking in the telephone and I understand almost everything, so they have to be careful of what they are saying....hehehee...!

I understand english and deutsch too.

I can play until I´ll faint ! For real !!!

I make small little noises a lot and often !

You can talk to me. I mean REALLY TALK to me !

I´ll never ever start a fight, but I´ll never back off either, if somebody attacks me or somebody I care about ! No matter the size or the shape of my rival !

I´m a boy with a hot temper ! For example: If you don´t say good morning to me when I want to, I will ignore you all day long and you have to suck up to me a lot, to become my friend again.

I can be mad at you for days, if I think that you have treated me badly ! I´m easily offended !

If I will fall or get in somebodys way, it´s always somebody elses fault. ALWAYS !!! I will look at you, like as you have been doing something VERY, VERY BAD !

If you have promised me something, a treat or a trip for example, I will NEVER let you forget it !

If you give me a "Twisted bone", you also have to give me a doggie-biscuit as dessert. Always ! If you have done it once I will DEMAND it the next time !

I will not accept a treat, if you don´t let me do a trick first. I want to earn my living....!

I´m a VERY proud boy, in every way !

I´m VERY gentle with girls !

I can stare at my mom for hours.....! She WILL surrender in the end !

I never kiss a boy on the mouth ! Just my dad of course ! A girl ! No problemo !

I get my paycheck in bones, tasty treats & toys. I mostly shop at My One, Prix, Djurmagasinet & at Regina´s Hundhörna. They have got the bestest stuff

I just LOVE Christmas and Christmas gifts. I open my gifts all by myself and I even find them all by myself ! I never touch somebody elses gifts. You can put my gift in the middle of all the others and I still know which one is mine. The gift can be anything at all and doesn´t have to be bought in a pet-store, neither has to be a dogtoy or a dogtreat, I still know that it´s for me......don´t ask me HOW I do that, or HOW I know that !?! mystery to my mom & dad...........But we have proof on video, that I do that all the time gifts are involved.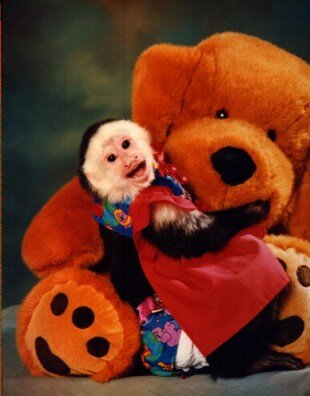 Life can be fun sometimes ! Whoo hoo !!!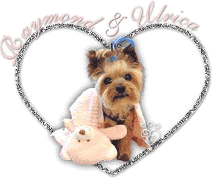 Please VOTE for us IF YOU LIKE our WEBSITE friends !!!
It ONLY takes a MINUTE !
Just CLICK on RAYMOND ABOVE & then YES...thank you SO much ! MOST appreciated as ALWAYS !